Joy Post Bennett
1924-2006
Founder of Covered Bridge Pony Club in 1972
District Commissioner 1972-1999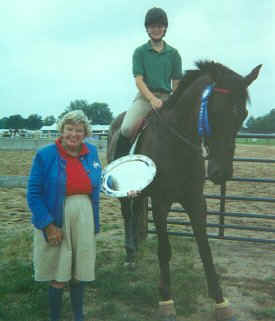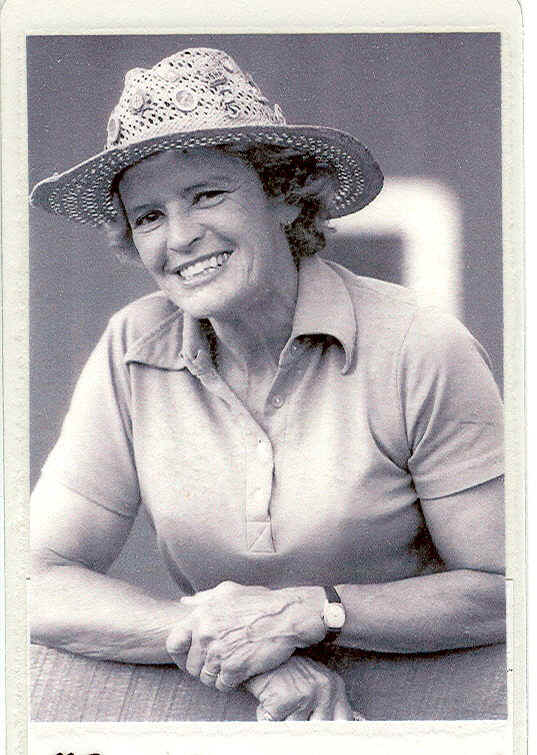 Joy presenting the Chris Bennett Memorial Trophy
to Rachel Zoller in October, 2000 during the CB Hunter
Show at Alta Vista Farm.
Dear Members of Covered Bridge Pony Club,
Joy Post Bennett passed away at her home on Friday, February 4, 2006. She was born in Tarrytown, NY in 1924. She founded Long Run Pony Club in 1957, serving as DC there, and then started Covered Bridge Pony Club in 1972, serving as DC until 1999 when she retired. She was a founding member of the Long Run Hounds, serving as a whipper-in for years. She was a National Examiner, received the USPC Founders Award in 1995 and was recognized as a regional "Legend of Pony Club" at the USPC Jubilee Anniversary in 2004.
Joy joined Pony Club in Ireland as a girl and never lost her wonderful accent. She could always be found gathering equipment for a child who needed tack for Rally or hooking her Suburban up to trailer a child to a lesson when the parent was too busy. Christmas parties at her house were wonderful affairs where we gathered around the piano to sing carols and enjoyed the great food spread out on her huge dining room table. She ran the D1 Rally for years by herself - we weren't quite sure how but she always managed to persuade anyone around her to help. I was elected as Jt-DC while I was out of the room at our Annual Meeting! Imagine my surprise when I returned to the sound of applause; but when Joy asked, we always answered.
Joy organized all the tailgating for the Hardscuffle Steeplechase every year, which meant we Pony Clubbers were expected to paint the markers for all the parking spots - if Joy volunteered, we all volunteered. Exceptional Equitation in LaGrange, Kentucky, a riding for the handicapped program, was another favorite cause of hers. In addition to taking groups of kids out to clean tack and stalls, we donated proceeds every year from a class at our hunter show.
When Long Run Hounds hosted a Children's Hunt for the Pony Clubbers, Joy set out a table loaded with cookies for the kids as they came back after their long ride, but forgot that the hounds liked cookies too! I will never forget her sprinting between the trailers trying to beat the hounds to those cookies.
In her later years, while she was out delivering Meals on Wheels, her wonderful husband Walter would be volunteering at Recording for the Blind or helping at a retirement home. Before he passed away, he used to joke that "one of these days, the retirement home is not going to let me leave" to go home.
The Joy Bennett Award is given to our members who remain in Covered Bridge until they age out at 21 as a tribute to her devotion to our club. She was deservedly proud that she guided eight of our members to Pony Club's highest rating, the "A", including Susan Harris, a nationally recognized "A"-level prepper, and local instructor Carrie Schempp Barrick. Joy's boundless energy and love of volunteering energized Covered Bridge and made it possible for us to be one of the larger clubs in the country for many years.
She will be sorely missed.
Services will be at Transfiguration of Our Lord this Saturday at 11:00, followed by visitation at Joy's home at 11715 Covered Bridge Rd.
Please share this mail with friends of Joy.
Peggi Bindner, Jt-DC of Covered Bridge Pony Club