Covered Bridge Courier
Lindsey Hundley, DC lindshun@aol.com
11601 Valley View Rd., Anchorage, KY 40223
http://covered.ponyclub.org
Fall 2006 - Fall 2007
Annual Banquet: Mark your calendars for Sunday, Dec.2. Invitations will be coming soon.
Midsouth Junior Cs are Quiz National Champions!!
Covered Bridge had two of the four members on the team - Mackenzie Spaes and Captain Carrie Salmon. They won by 30 points over the 2nd place team! Wow! Way to go, girls!!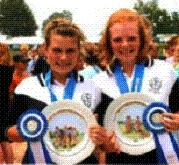 Midsouth Junior D team - Emma Burch did a great job on her team with 3 other Midsouth kids - they finished fourth and only missed first place by four points!!! Not a bad showing for her first year doing Quiz, I would say!! Congrats to Emma!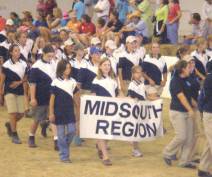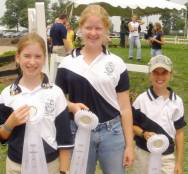 Midsouth Senior Cs - we had 3 of the four kids on this team, Madeline, Katie Coleman and Olivia. They won sixth place, which is a very strong showing since two of our kids are C3s and so had to answer HA questions all day on the third day of competition! Great job, girls!!
Annual Awards Banquet and Championships:
2006 Pony Clubber of the Year: Jesse Rockhold
This award is given to a member who has personified the giving spirit of Pony Club by supporting their club through their own participation in our activities plus contributing their time to help other members during the year.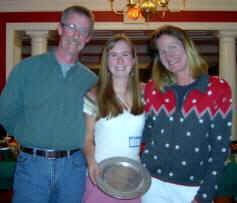 James, Jesse and Susan Rockhold
Our New C3s: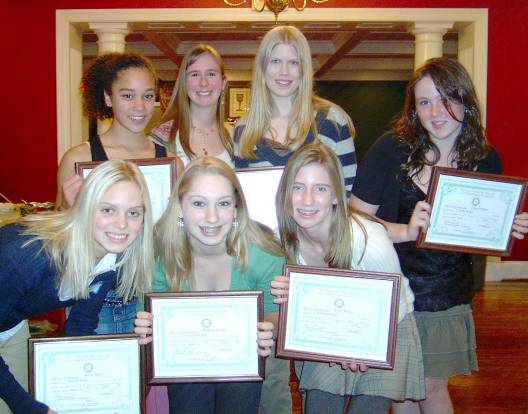 Kristen, Madeline, Emily. Back: Rachel, Jesse, Olivia, Emma.

The C3 rating is administered by a set of USPC National Examiners over 2 ½ days. It covers bandaging, longeing, oral exams, riding on the flat, stadium jumping and cross country. These girls did a great job and we are very proud of them!
A New 'B' for Covered Bridge:
Congratulations to Jesse Rockhold! She just passed her 'B' rating on August 12 up at the Hoosier Horse Park. She joins an elite group of Pony Clubbers who have attained this rating and will be listed in the Annual USPC directory every year with the other upper-level current and past members of Pony Club.
2006 Annual Awards Banquet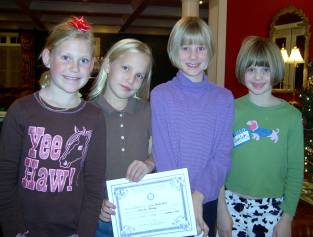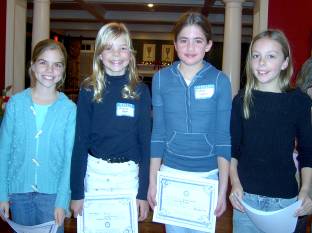 New D1s: Natalie, Jill, Mary P. and Sarah New D2s: Emma, McKenzie, Aisling and Emily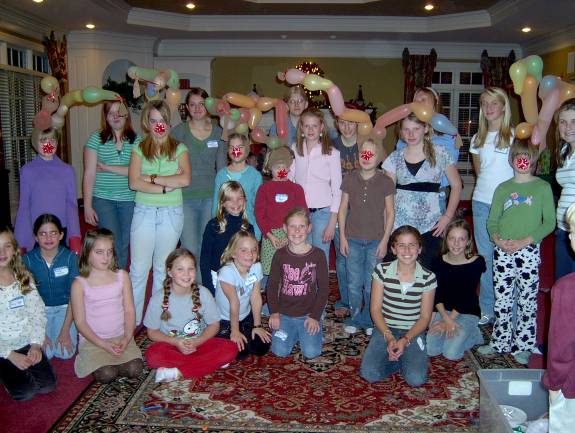 Fun and Games at the Banquet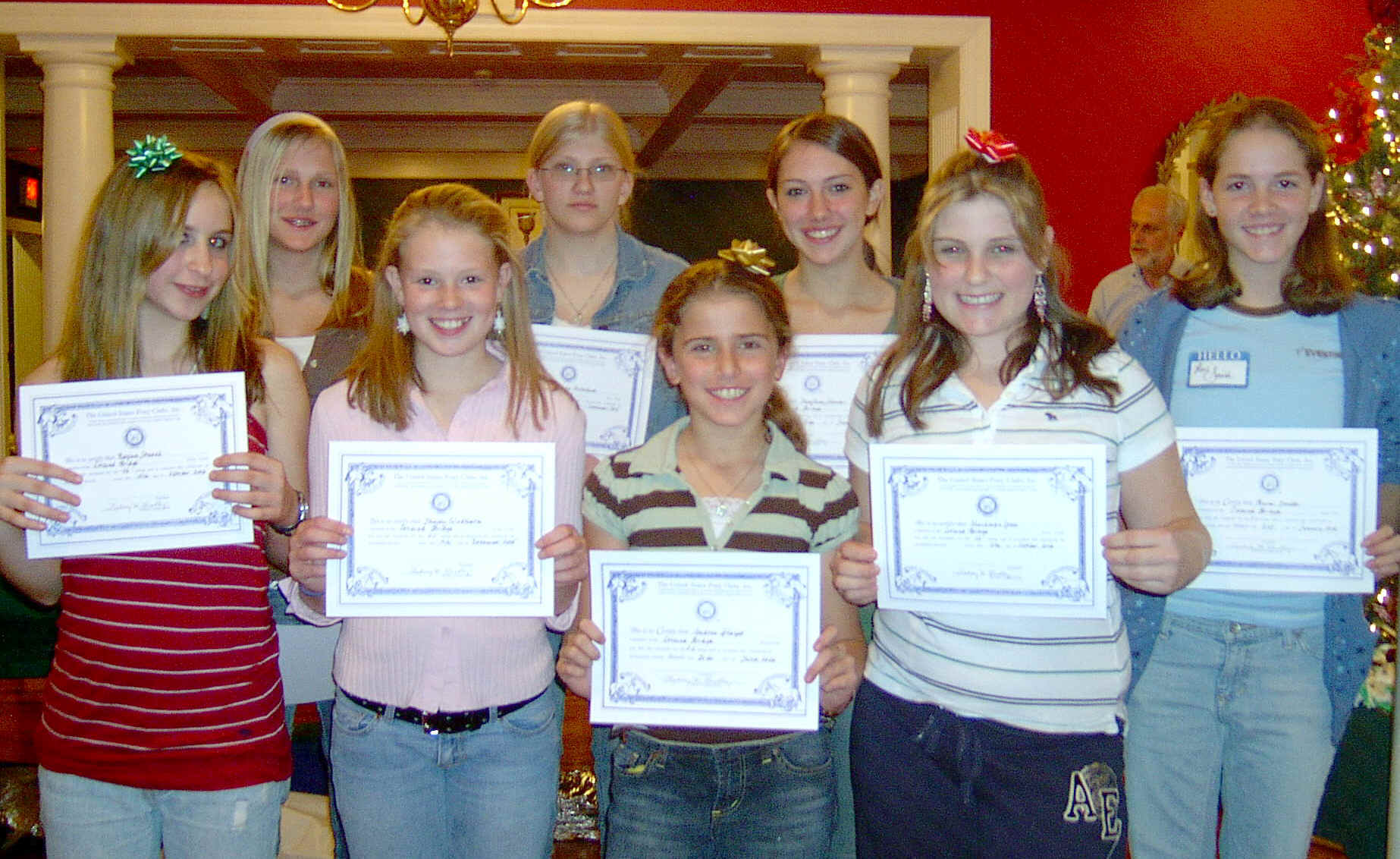 New D3: Tahlia New C1s: Kaylen, Shelby, Andrea, Mackenzie, Rene S.

Back row: Rene R., Linda, Meaghan.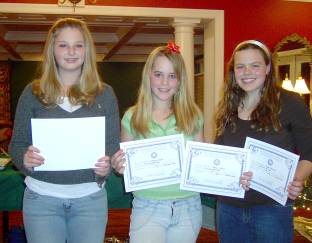 New C2s: Kara, Molly, Katie
2006 Covered Bridge Championships:
These awards are determined through a point system that rewards participation in Quiz,
the CBPC Combined Test, and Mega Rally during the year.
D1 - McKenzie Ragan
D2 - Aisling Carroll
D3 - Kaylen Strench
C1 - Rene Smith
C2 - Emma Pridham
18th Annual Covered Bridge Combined Test
Sunday, March 18 Stone Place Stables
Complete results are posted on our web site.
Winners of CBPC trophies:
Starter - Kara Bailey-Roth
Beg. Nov - Tahlia Hodes
Novice - Molly Jayes
Training - Natalie Hargis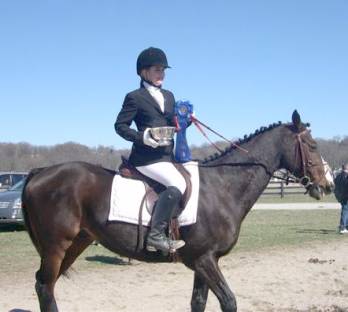 Molly on her beloved "Harry", who suffered a fatal accident this year.
We all extend our sympathies to Molly on her loss.

D1/D2, 9 & Under (Sec. 1):
4th place team - Individual -
Emily Hagan (Capt) 9th
Caroline Gosser
Natalie Incorvia 8th
D1/D2, 9 & Under (Sec. 2):
1st place team - Individual -
Mary P. Camp (Capt) 7th
Jackie LeMastus
D1 10-12 yrs:
5th place team - Individual -
Jill, Calley and Helen
D2/D3, 10-12 (Sec 1):
4th place team (CB/WT) -
Sarah Harmon-Vaught
Claire Miles
Sarah and Claire; Molly and Haley from Wilderness Trace
D2/D3, 10-12 (Sec 2):
1st place team - Individual -
Aisling Carroll (Capt) 7th
Kentucky Horse Park
:>) Many thanks to our wonderful C Advisors!! :>)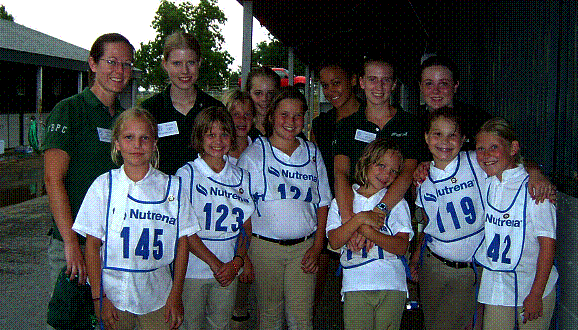 D2 (Div. A):
D2 (Div. A):
D2 (Div. B):
7th place - CB/P team
Aisling Carroll*, Jackie LeMastus, Anna Coffman, SM
Cirstyn Hollander (P) (not pictured)
Beg. Novice:
Novice: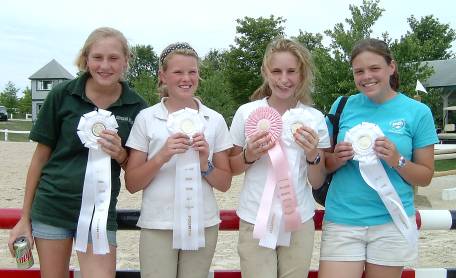 Rene, Shelby, Kaylen and Katie
D1

D2

D3

C1

C2

C3

Caroline Gosser

Samantha Laurel

Liza Ragan

Calley Thompson

Grace Solinger

Alex Cowens

Sarah Snyder

Courtney Collins

Katie Hill

Bailee Hodelka

Sarah Harmon-

Vaught

McKenzie Ragan

Emma Burch

Emily Dohrman

Calley Thompson

Grace Solinger

Jackie LeMastus

Alex Cowens

Courtney Collins

Bailee Hodelka

Katie Hill

Emily Dohrman

Emma Burch

Courtney Collins

Mackenzie Spaes

Kaylen Strench

Liz Paschal

Tahlia Hodes

Mallory Glazer

Brooke Webber

Katie Coleman

Molly Jayes

Kara Bailey-Roth

Mackenzie Spaes

Kaylen Strench

Shelby Wietharn

Noelle Varga

Vicky Trout

Kristen Bednarski

Olivia Ford

Madeline Hundley

Jesse Rockhold

Emily Moscoe

Emma Pridham

Kelsey Harja

Rachel Medinger