*please scroll down to view entire page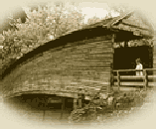 Founded 1972 by Joy Post Bennett
MidSouth Region, Club # 080040
Instagram account - "coveredbridgepc"
Past and Current Upper-Level Member History -
see if you know any of these names!
Missy Camp, District Commissioner
8888 Hwy. 329, Crestwood, KY 40014
502.502-551-8389 missycamp@mac.com
Jt-DCs:
Anne McMillin mcjuckett@bellsouth.net
Peggi Bindner pfb5678@aol.com
1308 Meadowridge Trl, Goshen, KY 40026
Treasurer: Mary Smith
Secretary: Allison Deaton
Barn Managers: See link on the left
CT Dressage Chair: Peggi Bindner
CT Jump Chair: Whitney Drury
CT Fundraising: Cindy Thompson and Gigi Girard
CT Ribbons Chair: Allison Deaton
Food Chair: Megan & Angie Brown
PC Equipment Storage: Paramont Farm
******************************************************************

Interested in Pony Club? Go to "Pony Club Forms" page

******************************************************************
Look!! Before you buy a medical bracelet, read this!
Medical Bracelet Requirements for Pony Club
2019 Shows, Clinics, Awards:
Click Show Calendar to get the local and regional happenings.
Check back for updates. 3/26/19 version
Click below to check out recognition awards for some breeds , TIP (Thoroughbred)
cash awards, USEA joint awards with Pony Club and PC discipline awards.
https://secure.ponyclub.org/Members/CompetitiveDisciplineAwards.aspx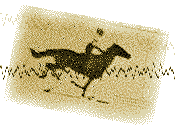 Save the Dates -
2019:
Rally:
D1, D CT, Dressage - June 19 & 20
D Eventing - June 19-21
C Eventing - June 20-23
Eastern Championships, Tryon NC - July 24-28
2020:
Festival and National Champs at KHP !! mid-July. Updates in the spring.
Covered Bridge PC Combined Test
2019 CBPC CT trophy winners:
The Oteka Brab StarterTrophy - Madison Trenaman
The Rosie Beg Nov Trophy - Nora Brown
The Joy Bennett Novice Trophy
2019 CBPC CT trophy winners:
The Oteka Brab StarterTrophy - Madison Trenaman
The Rosie Beg Nov Trophy - Nora Brown
The Joy Bennett Novice Trophy - Sarah Snowden
The Katie Hagan Training Trophy - Clara Juckett
The Katie Hagan Training Trophy - Clara Juckett
A big thank you to these 2019 sponsors for supporting our club!
Jump Sponsors

Advanced Orthopaedic Physical Therapy (2) Crestwood Coin Laundry

Dr. Gigi Girard

Glenwood Veterinary Services

Hallway Feeds

The Juckett Family

The Hitching Post Tack Shop

Kentucky Tack Exchange

Long Run Woodford Hounds

by Colleen E. Walker, Broker,

The Group of Kentucky, Powered by eXp

Realty

Luckett's Tack Shop

Roger Magnusson DVM

Northrop Equine

Oldham Equine, David Beckman DVM

The Parker Family

The Rozenboom Family

Janet Rupp, J. Lloyd Designs

Susan L. Harris, Certified Instructor, Spring

Run Farms

Second Stride

Mason Trenaman Law Office

Blue Ribbon Sponsors

The Drawe Family

On Point Equestrian

Molly Swyers

Dr. Thomas Roth, Whipps Mill Animal

Hospital

Janet Rupp, J. Lloyd Designs

Skyland Stock Ties and Pins

Skylight Supply & Goshen Saddlery

Patron Level

The Wathen Family

Food Donors

Waypoint Food Services

Vet Services

Dr. Fred Sprinkle
Hallway Feeds
ESTABLISHED IN 1964 Family-Owned, Handshake-Operated
For more than half a century, Hallway Feeds and the Hall family have been committed to premium quality feed and supplements, crafted using only the finest hand-selected ingredients. Located in the heart of the Bluegrass, Hallway Feeds is the only remaining and largest family-owned and locally operated full-service feed company dedicated to the equine industry.
2019 Quiz Results
Our 9&Under team finished third!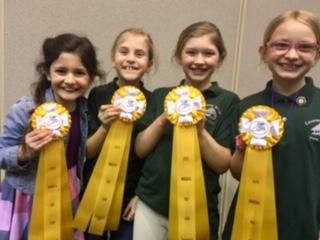 Gabrielle finished third and Sabine 8th among both divisions.
Sabine, Lila and Lucy were at their first Quiz!
The Novice D team finished third while on a
composite team with Cedar Hills.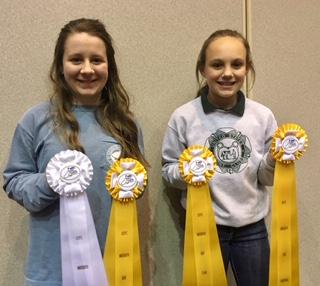 Marin finished 3rd individually which qualifies her
for the Modified Junior D division at Champs since
she is a D2. Jules got 4th at her first Quiz.
Junior Ds got 3rd on a 3-man team which is
difficult since they cannot drop the low score
on each round.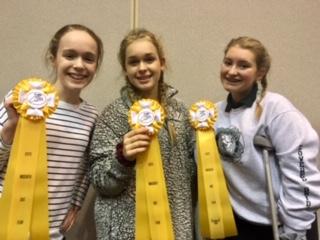 Anna won 5th individually, Molly placed 8th and Gracie
came on crutches to her first Quiz :>)
Anna and Molly will receive an invitation to Champs.
Junior Cs won!!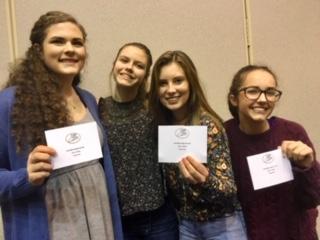 Believe or not they ran out of ribbons for Cs??!!
Nora, Madison, Sarah and Sophie are sporting their
promise-of-ribbons-later cards :>)
Madison was 2nd, Sarah was 5th and Sophie was 8th so
will be getting invites to Champs.
Annual Awards and Championships:
2018 Pony Clubber of the Year - Madison Deaton
This award is given to a member who has personified the giving spirit
of Pony Club by supporting their club, region and/or national organization
through their own participation plus contributing their time to help other
members during the year.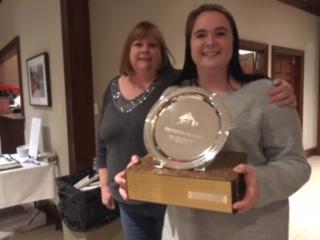 New National certifications: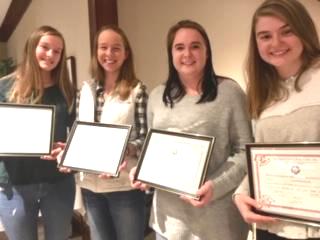 Clara and Rachel earned their C+ ratings,
Madison finished her C3 and Eliza made her B!
2018 CBPC Champs:
D1- Jules
D2- Sophie
D3- Madison
C1- Elizabeth
C2- Clara
HB & up- Evelyn
See the Newsletter Page for Past
Rally Results
Past Winners page for previous winners